---
Northsafetyshop.uk
Unit A Roe Cross Industrial Park
Old Road
Mottram
Cheshire
SK14 6NB
Phone: 0161 308 4020
Fax: 0161 308 4030
Email: office@northsafetyshop.uk
Northsafety was established in April 1997 by experienced PPE (Personal Protective Equipment) professionals
Our Technical Staff are qualified Chemists who were involved in rewiting British/European PPE Product Standards.
Managing Director - Peter Rozhin
Sales Director - Inga Dankowska
Sales Manager - Monica Murphy
Technical Manager - Peter Robinson
Office Manager - Milena Rozhin
Warehouse Manager - Robert Bowden
We are based on the outskirts of Manchester and supply the whole of the UK with a broad range of PPE.
Our major area of expertese is Hand Protection with particular emphasis on Disposable/Examination Gloves
We are long standing members of the
BSIF (British Safety Industry Federation)
which regulates the PPE industry and provides support & guidance on a large range of occupational safety issues
---
Technical Service
We have a exemplary reputation for our Technical Service within the PPE Industry
Based on the information provided, we can technically asses your specific requirements and offer the best all round solution based on cost/performance parameters
If a product is listed "Out of Stock" please contact us and we will offer you an alternative brand
In the future if we feel a different/new product would be more suitable, we will send samples for your evaluation
Account Management
If required we can set-up automatic orders to be sent at a frequency determined by yourselves
We also offer service to contact you on specfied agreed dates/intervals to determine your exact requirements
Additionally we can deliver to a range of addresses of your choice
Under some circumstances we have implemented a full stock monitoring/replenishment service
If you wish to discuss this option please contact us
---
PPE Manufacturers:
The following manufacturers are our key strategic suppliers
In order to maintain absolute brand integrity, unlike others, we do not spot buy, in an attempt to increase profits
You can be therefore be assured, that quality/supply remains absolutely consistant.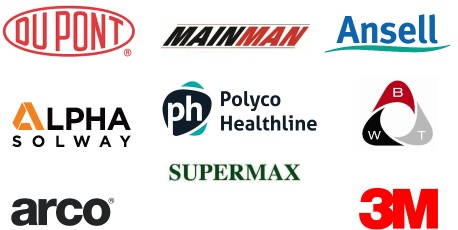 We hope you find our comprehensive webshop both informative and instructive
It has been carefully designed to offer an intuitive, safe & seamless approach to ordering PPE online
The Product Catalogue is continually updated to reflect changes in pricing, new products, special offers etc.
As it is used as a point of reference any changes to Product Standards, Accreditation or Legislation will be updated immediately
We are absolutely committed to providing a high level of service at competitive prices
If you have any comments/suggestions then you can contact us using the details above or alternatively use
the link on the Contact us page